Information

Address:
Featherstone Elementary School
14805 Blackburn Rd.
Woodbridge, VA 22191
Phone: 703-491-1156
Date Opened: Serving the Featherstone community since 1961
Principal: Christina Treadwell
Assistant Principal: Christopher McManus
Number of Students: 458
Number of teachers: 51 (including Specialists)
School Colors: Red & White
School Mascot: Falcon
About Featherstone Elementary School
In December 1961, Featherstone opened its doors to grades one through seven. The mascot was Chief Featherstone and students organized a student council, safety patrol, and a school choir. The PTA taught ballet classes and held a yearly carnival and parade through the neighborhoods complete with teachers' cars decorated for the event.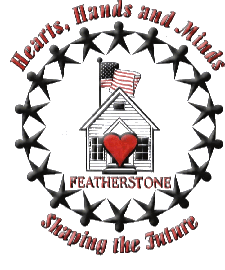 Special Programs and Extracurricular Activities
Featherstone Elementary School hosts a variety of programs for our families each school year.
Special Programs
Open House
Back to School Nights
Title 1 Reading Night
STEAM Night
Multicultural Night
Get Ready for SOL's Night
Quarterly Awards Assemblies
Extracurricular Activities
Boy's Mentoring Club
Girl's Mentoring Club
Writing Club
Chorus
Garden Club
Girls on the Run
Kind Club
Recycling Club
Robotics
Soccer Club
Student Council Association (SCA)
Opportunities for Parent and Community Involvement
Featherstone is served by an active PTO supporting students and staff through their fundraising efforts. They sponsor opportunities for families to enjoy various events throughout the school year. Please join us for monthly meetings that are held on the second Tuesday of every month at 5:30 p.m. We are always looking for new members and volunteers. The PTO hosts multiple restaurant nights, movie nights, bingo night, a Fun Run, and various other activities to support students and teachers with supplies, technology, and field trip assistance.
What Makes Featherstone Elementary School Unique?
Featherstone is a community school where our hearts, hands, and minds are shaping the future.
Hearts - the self-esteem and pride each child brings to the learning process.
Hands - the hard work and active participation of both students and teachers in the learning process.
Minds - the acquisition and utilization of knowledge as children prepare for the future. This is the credo we share as a community of learners.